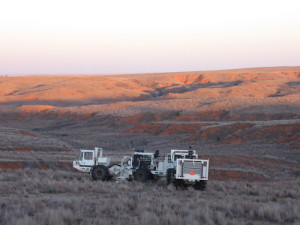 Geophysical services include:
Seismic Workstation Interpretation

Survey Design and Management

Acquisition Field Supervision and Quality Control

Processing Supervision and Quality Control

2D and 3D Pre-Stack Depth Migration

Technology Transfer and Training
WORKSTATION INTERPRETATION of 2D and 3D seismic data using the IHS Kingdom Suite. Internationally experienced seismic data interpreters assist in client interpretation or review data for exploration/exploitation opportunities. Our in-house interpretation services include a full range of exploration and exploitation computer workstation applications:
3D seismic reservoir characterization

Integration of regional 2D data sets with 3D data volume

Regional and local structural interpretation

Seismic sequence stratigraphic analysis

Amplitude versus offset (AVO) analysis

Pre-stack, model-based depth migration
PROJECT MANAGEMENT covering all aspects of 2D and 3D survey design, bidding, acquisition, processing, interpretation, and technical presentation/review. Our experts have hands-on experience in many national and international basins. We provide:
2D and 3D survey strategy and design

Acquisition supervision and contractor quality control

Processing supervision and contractor quality control
PRESTACK DEPTH MIGRATION of 2D and 3D seismic data using Paradigm Geophysical's "GeoDepth"software. Pre-Stack Depth Migration (PSDM) provides the best possible image of the subsurface by properly accounting for vertical and lateral velocity variations in the earth:
Dr. Richard Postma has a world wide reputation in depth imaging having worked in the field since 1985

Detailed velocity model building derived from the seismic data and/or well control

Expertise in structurally complex areas

Hardware capabilities for 3D surveys of 2 to 200 sq. mi.
TECHNOLOGY TRANSFER AND TRAINING of client representatives in all phases of seismic projects. We provide technical training in:
Survey design and management

3D workstation interpretation